Marketing Strategy of Hewlett-Packard Tablets
Executive Summary
The main purpose of this report is to analyze the macro business environment for Hewlett-Packard Company (HP) and its marketing strategies of its tablets. The report comprises of two parts. Part one includes a brief introduction of the HP Company and its tablet product line, a SWOT analysis of the overall environment that HP is facing with, a study of the HP tablets' unique selling point, and an evaluation of HP's current marketing strategy for its tablets. Part 2 includes an analysis of the segmentation and positioning policies of Hp tablets, and related marketing objectives and the suggestions of implementing the four Ps to achieve these objectives before drawing a conclusion at the end.
Tablet of Contents
Executive Summary 2
1.0 Introduction 4
2.0 Situational Analysis: SWOT 7
3.0 Differential advantages, competitive edge (USP) 12
4.0 Evaluation of HP marketing strategy 12
5.0 Segmentation targeting & positioning (STP) 13
6.0 Recommended objectives and goals (SMART) 14
7.0 Marketing mix of 4Ps 15
8.0 Conclusion 17
References 17
1.0 Introduction
Hewlett-Packard Company was co-founded by William R. Hewlett and David Packard in 1939.Headquartered in California, the United States, the company is a multinational information technology corporation. It provides products, technologies, software, solutions and services to "individual consumers, small and medium-sized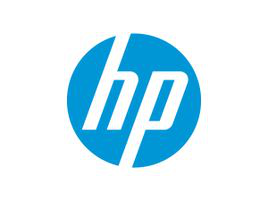 businesses (SMBs) and large enterprises, including customers in the government, health and education sectors" (2014 Annual Report, 2014). The offering of HP includes: personal computing and other access devices, imaging- and printing-related products and services, enterprise information technology infrastructure (including enterprise server and storage technology, networking products and solutions, technology support and maintenance), multi-vendor customer services (including technology consulting, outsourcing and support servicesacross infrastructure, applications and business process domains, IT management software, application testing and delivery software, information managementsolutions, big data analytics, security intelligence and risk management solutions(2014 Annual Report, 2014).In October, 2014, Hewlett Packard announced that the company would be split into two separate companies: Hewlett-Packard Enterprise and HP, Inc., with the former offering personal-computer and printer businesses and the latter offering technology services (Koch, 2014). Ms. Meg Whitman serves as chairman of HP Inc. and CEO of Hewlett-Packard Enterprise. Patricia Russo will be chairman of the enterprise business, and Dion Weisler will be CEO of HP, Inc.
HP's tablets are a part of its Personal Systems business segment, which includes "commercial PCs, consumer PCs, workstations, thin client PCs, tablets and retailpoint-of-sale (POS) systems, calculators and other related accessories, software support and services for the commercial and consumer markets" (2014 Annual Report, 2014). HP launched its first tablet in July 2011, right after the acquisition of Palm Inc.'s webOS. Its first tablet was named HP TouchPad, integrating webOS into tablet devices. Since then, HP has been completing its product line of tablets, and currently this line has two segments: the For Home tablets aiming at consumers, and For Work tablets aiming at business and government workers. Consumers tablet line has 11models (see FIGURE-1) of different screen sizes and operating systems, including 7-inch tablets (HP 7 G2, HP 7 Plus G2, Slate 7 and Stream 7), 8-inch tablets (HP 8 G2, Stream 8 WWAN 4G and Stream 8-5801), 10-inch tablets (HP 10 Plus, Slate 10, Slate 10 4G and HP 10 Tablet). The operating systems of HP's tablets include Android and Windows 8.1. 8 out of the 11 HP tablet models use the Android system. The business-oriented tablets (see FIGURE-2)have got 10 models.
Figure-1 HPFor HomeTablets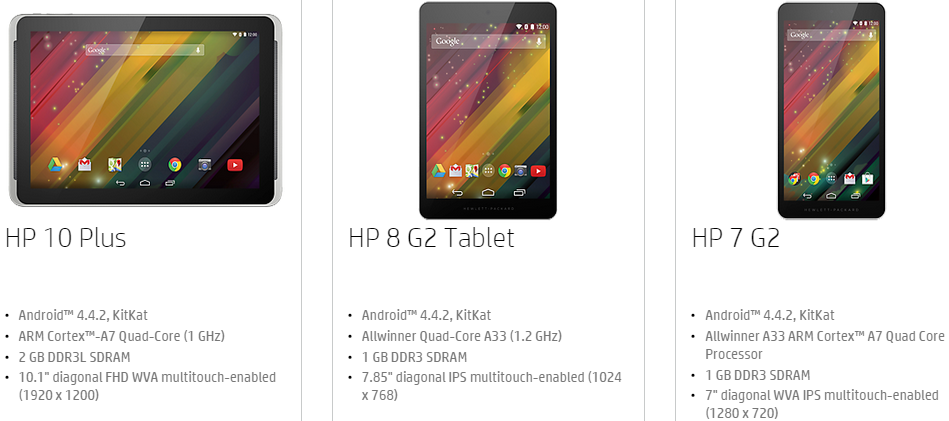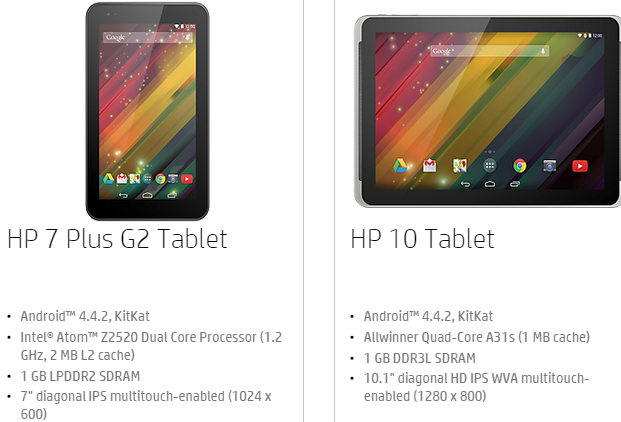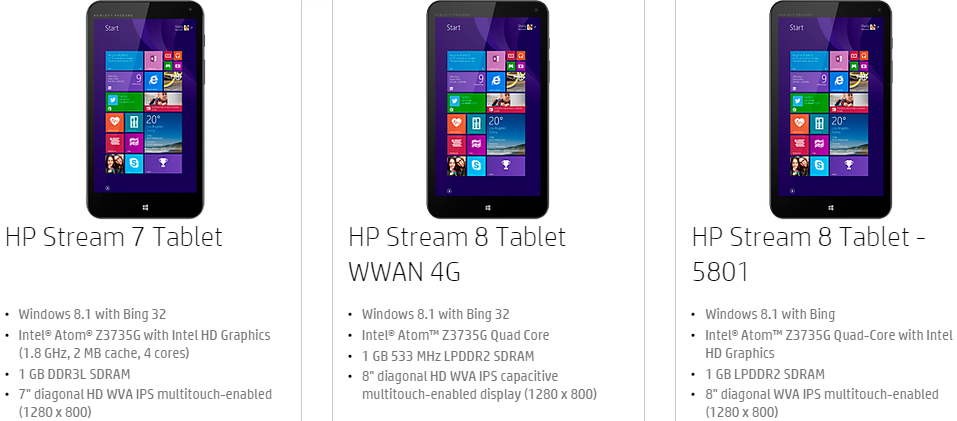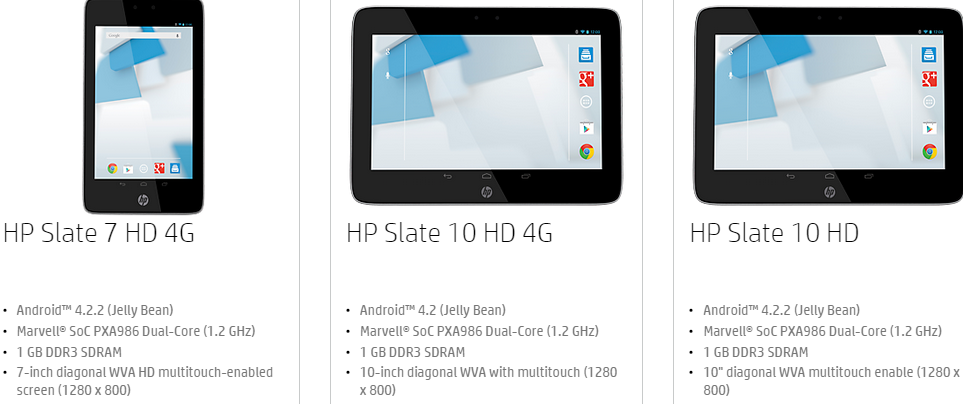 Source: http://store.hp.com/webapp/wcs/stores/servlet/us/en/vwa/tablets#
FIGURE-2 HP For Work Tablets

Source: http://shopping1.hp.com/is-bin/INTERSHOP.enfinity/WFS/WW-USSMBPublicStore-Site/en_US/-/USD/ViewStandardCatalog-Browse?CatalogCategoryID=1kcQ7hacajkAAAFD.F5ylsV7
2.0 Situational Analysis: SWOT
SWOT is a group of initials, which stand for Strengths, Weaknesses, Opportunities and Threats. These include all the key environmental elements that an organization would face when competing on the market. The SWOT theory can be used in the analysis of a project, an organization or even a person. In our case, it will be used to evaluate the operation of an organization-the HP. Strength refers to the good qualities of the organization that give it advantages over others; weaknesses refer to the characteristics that put the organization at a disadvantage compared to others; Opportunities and threats refer to environmental factors from the external that either help the organization to exploit its advantage or cause trouble that prohibiting it from growing. This structured method allows for an evaluation of the company's running from internal and external. Strengths and weaknesses are internal factors while opportunities and threats are imposed. A marketing strategy can be developing based on a SWOT analysis by using corporate advantages and external opportunities, avoiding disadvantages and managing risks that it faces (Anja, 2009).
When it comes to strengths, HP does have some characteristics that give it a competitive edge. First of all, as the world's leading PC vendor, HP has a strong brand reputation and large market share in the computer market. According to Interbrand (2014), the world's leading consultancy specializes in brand strategy, valuation and management, the HP brand was valued at $23,758 million, making it the 17th most valuable brands in the whole world. Supported by its distributors, retailers and providers, HP has got a significant market reach all over the world, almost in every market it operates. According to Statista (2015), HP came 2nd place with 18.8% in terms of PC market share. Currently, HP is operating in almost every continent with 74 offices in Africa, the Americas, Asia Pacific, Europe and the Middle East (see FIGURE-3 for reference). The overseas market makes up 65% of the company's net revenue. This geographic diversity allows HP to meet demand on a global basis, provides revenue sources that can offset economic downturn in certain region and thus provides stability to its operations. Such broad geographic presence will also bring opportunities to develop new markets. Secondly, innovation is also a key advantage of HP. The company invests a lot into product research and development every year. HP Labs, dedicated to research areas of systems research, analytics, printing & content, security & cloud, networking & mobility, mechanism & design, is a part of HP's Corporate Investments segment. Expenditure for research and development has reached $3.4 billion in 2014. By October 31, 2014, Hp's worldwide patent portfolio exceeded 34,000 patents, which provides an important instrument for HP to maintain its competitive differentiation of its products and services, allowing HP to sell products and services freely on markets that it operates and maximize return on research and development investments(2014 Annual Report, 2014). Thirdly, the OM network is also strength. HP is working with a significant number of outsourced manufacturers (OM) and vendors to buy materials from and to manufacture HP-designed products. This can help maintain flexibility in supply chain management, generate cost efficiencies and reduce time to market HP products.
Figure-3 HP Offices Worldwide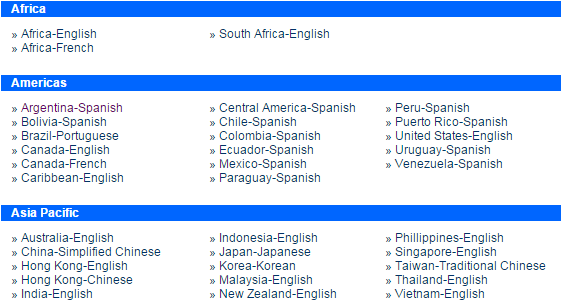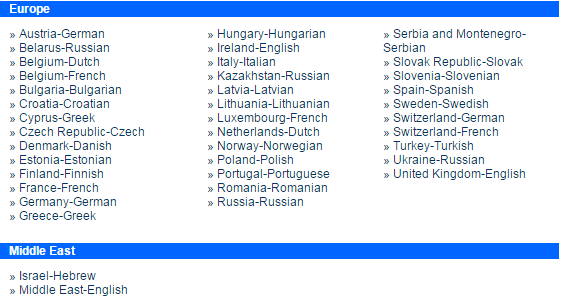 Source:http://welcome.hp.com/country/us/en/contact/ww_office_locs.html
HP has its own weaknesses to overcome. First of all, HP's ability to innovate is in question. The number of patents has declined in 2014 when compared with 2013 and 2012. And the net value of developed and core technology and patents, trade names and trademarks and in-process research and development have been on the decline as well. According to the HP 2014 Annual Report, net value of developed and core technology and patents went down from $1227 million in 2013 to $827 million in 2014; net value of trade names and trademarks went down from $183 million in 2013 to $96 million in 2014; net value of in-process research and development went down from $3 million in 2013 to nothing. The compromised ability to innovate will affect HP's freedom to provide quality products and seamless experience to users worldwide. And it will affect the sales of its products. Secondly, HP's poor competency in acquisition is also a problem. Its purchases of smartphone manufacturer Palm Inc. and the UK software and information management provider Autonomy Corporation are considered both failures. Palm Inc. became a HP division after s $1.2 billion buy in April 2010. With the webOS operating system from Palm, this move was expected to be an important step of completing HP's ecosystem by introducing a tablet line. However, it turned out to be a major mistake as the webOS system was beaten by Android and Apple's iOS. HP realized its remarkable mistake and discontinued its Palm subsidiary in the summer 0f 2011. The overpriced Autonomy was purchased in October, 2011 at $10.2 billion, which turned out to smaller and less profitable than expected. HP ended up taking an $8.8 billion write-off. These acquisitions, which cost time and money, have revealed how incompetent HP was when acquiring companies.
The market has offered many opportunities for HP to realize future growth. First of all, the global market is expected to see growing demand for devices including PCs, ultramobiles, tablets and mobile phones. According to Gartner (2014), the number will grow from 2,409,558,000 in 2014 to 2,535,060,000 in by the end of 2015. And the worldwide tablet shipment has increased from 207,082,000 units in 2013 to 229,085,000 units in 2014, and it is expected to grow to 272,904,000 units by the end of 2015. The emerging markets are also experiencing growing demand. Device shipment is expected to grow from 1,738,135,000 in 2014 to 1,836,225,000 in 2015 (see FIGURE-4 for reference). These are great news for HP since it has been developing greatly on the emerging markets. According to the HP 2014 Annual report, business activities are increasing on emerging markets including Brazil, Russia, India and China. Secondly, HP's separation will bring opportunities for new growth as well. The split leads to two organizations: the enterprise-facing hardware and services business HP Enterprise and the consumer-facing computer and printer segments business HP Inc. Breaking up allows business to gain clearer organizational focus (see FIGURE-5 for reference).
FIGURE-4 Worldwide device shipments by segment
Source: http://www.gartner.com/newsroom/id/2875017
FIGURE-5 Business scope of the two companies

Source: 2014 HP Annual Report
HP also faces with threats or risks on the market. Firstly, it suffers competition pressure. Competition on the tablet market has always been fierce. Samsung, Google, Microsoft, Lenovo and Apple are all rivals and they are all expanding their product portfolios. Consumers have always regarded Apple's tablet the iPad line as the best tablets and it is reaching out to the lower-end market, where Amazon Kindle Fire dominates. Secondly, the performance is affected by the macroeconomic conditions across many geographic regions, particularly in the United States, Central Eastern Europe and Russia, and certain countries in Asia. Thirdly, cooperation with third-party resellers or retailers on the distribution and go-to-market strategy might make planning and inventory management difficult since they are subjected to the changing market demand and act independently. Fourthly, due to the broad geographic commercial presence, HP operations are subjected to laws and regulations concerning taxation, environment, trade, and labor from authorities in the markets that it chooses to operate. Any violation of these rules will not only cost penalty but also reputation.
3.0 Differential advantages, competitive edge (USP)
The unique selling proposition is a marketing concept explaining how to differentiate a brand or a product. The unique selling point is a feature or characteristic of a product that distinguishes it from othersand makes it looks more valuable. It is "a crucial element in defining your competitive advantage" (Stone, 2001). The unique selling point of the product must be conveyed to the consumers so as to persuade them.
The core elements of a HP tablet include: an AMD, Intel, Marvell or Allwinner processor, an Android or Windows operating system, a HD multitouch-enabled screen. However, none of these is unique to HP's tablets as these elements can be seen in tablets of other brands such as Samsung, Lenovo and Microsoft. The user interface and appearance of HP tablets are outshone by Apple's iPads. To conclude, HP tablets do not have a strong distinguishable quality. Its competence in the tablet market is weak.
4.0 Evaluation of HP marketing strategy
Currently, the tablet market is maturing as more and more tablet providers and large screen mobiles are emerging. On a maturing tablet market, the competition and marketing is always about pricing. There is a widening gap between Apple pricing and Android-based tablets pricing. Apple tends to maintain higher prices as it has strong customer loyalty while Android-based tablets focus more on the lower-end market.
HP divides its tablet market into two major groups: the consumer market and the business users market. The marketing of HP tablets is focusing on pricing. The company offers consumer tablets priced at ranging from $99.99 (7 G2, Stream 7), to $149.99 (Stream 8 5801, 8 G2), to $169 (Slate 7), to $179.99 (7 Plus G2, Stream 8 WWAN 4G), to $249.99 (HP 10) and $279.99 (10 Plus). The prices of HP tablets are targeting at the mid-and-low end of
the market. When launching the Slate 7 (see above image), a tablet with Android operating system and the same size as Google's well-reviewed Nexus 7 and Amazon's Kindle Fire ($199), HP priced it at $169, which immediately attracted market attention. This pricing strategy set a low mark in the consumer tablet market as it undercut almost every consumer tablet on the market. The business-oriented tablets re priced at from $529 to $1749. This pricing strategy will give it competitiveness by giving buyers more options based on their budget.
5.0 Segmentation targeting & positioning (STP)
HP tablets are not positioned simply as consumer products. Some models are positioned as business-class oriented devices as they integrate the Windows operating system in the first place. Back in 2012, HP introduced its first Window 8 tablet with an x86 CPU that could run standard Windows program such as Microsoft Office and Adobe Photoshop smoothly, very appealing to business users. The diversity in the design enables the HP tablets to accommodate both individual consumers and business users with Android tablets aiming at the former and Window models aiming at the latter.
However, the difference in design only helps the HP divide the mass market roughly. HP needs to be more specific about who are its target customers. Market segmentation is a company's strategy of dividing "a mass market into identifiable or distinctive groups or segments" (Baines et al., 2013). It is the process of dividing a market into segments and deciding marketing strategy according to the needs of target customers. Segmentation generally has the geographic approach, demographic approach, behavioral approach and psychological approach.
Based on the evaluation of HP's marketing strategy of pricing above, it is believed to be using the demographic approach. Demographic segmentation means that the company divides the market based on demographic data such as age, gender, occupation and education level (Reid and Bojanic, 2009). Different price levels are aiming at consumers of different budget limits on the market. Moreover, since HP has a strong presence in the emerging markets, pricing the tablets at more affordable prices will help it expand in these markets.
6.0 Recommended objectives and goals (SMART)
SMART, standing for Specific, Measurable, Attainable, and Relevant and Time-bound is the criteria of setting objectives. SMART means that the goals being set should be exact, clear and unambiguous (specific), measurable so that it is possible to know exactly whether progress is being made toward completion, realistic instead of extreme so that the goal will not be meaningless because it can never be realized (attainable), relevant so that it provides motivation for the team to complete the task before deadline or a due date and it is worth all the effort that the team has invested into the project.
The objective of HP tablet marketing is to expand its tablet market share to offset falling demand for PCs. As the PC industry keeps declining, HP is shifting its focus to the tablet market, and business and government workers are its priority. In 2012, HP introduced its first Window 8 tablet with an x86 CPU compatible with standard Windows programs, which was an appeal to business users. In 2013, it decided to further explore the tablet market by launching the ElitePad 900, a tablet designed with business and government workers in mind (Lonescu, 2013), which strengthened its position on the business-oriented tablet market.
7.0 Marketing mix of 4Ps
Marketing mix is the guide for a company to determine its offering from different angles. The concept includes: price, product, promotion, place, physical evidence, people and process. The four Ps refer to the elements of price, product, promotion and place, which are often used to evaluate a tangible product. The 7Ps concept includes all the Ps that mentioned previously, which is often used in the evaluation of a company's service. In our case, the subject is a tablet, a physical product. Therefore, the 4Ps concept will apply.
Price: On the consumer tablet market, there is Apple tablets and Android-based tablets. And there has been a gap of pricing between them. Apple has long been dominating the higher end market with unmatched design and higher prices. It meets little challenge in this area. However, the tablet market is changing. Pricier tablets might not sell well since there are more and more substitutes for tablets. Also, growing demands for tablets are mostly seen in emerging countries where consumers have limited buying power. Therefore, setting low-medium prices is a smart move. Pricing is a competitive edge of HP tablets. With a wide price range from $99.99 to $279.99, HP has successfully positioned itself on the budget tablet market. But HP cannot afford to lower the price as it could harm revenue and worsen the pricing wars on the market. Business-oriented tablet market is where new growth can be realized. HP takes over the higher end market by setting prices at $529 at the lowest.
Product: The design of HP's tablet line does not have any element exclusive. Tablets of other brands share the same processors, operating system or similar user interface. Consumer tablet market is maturing. Business-oriented tablet market is where new growth can be achieved. Apple is shifting its focus to this segment by setting up cooperation with IBM. HP, on the other hand, has a head start in this segment as it has experiences serving business consumers. As a product line targeting not only at consumers, but also business users, HP should maintain its close cooperation with Microsoft in the development of business-oriented tablets so as to keep its business users satisfied. The compatibility with office software like Microsoft Office and Adobe is critical.
Promotion: HP tablets need no intense amount of advertising when they are marketed under the internationally recognized brand HP. The HP brand was valued at $23,758 million, and it is the 17th most valuable brands in the whole world. Being the one of the most talked-about brands, the logo of HP will help sell tablets. The industry and worldwide IT device lovers have discussed each launch of the HP tablets. It is more important to focus on the R&D than focusing on promotion.
Place: HP tablets are sold to every market that the company chooses to operate, including the Africa, the Americas, Europe, Asia Pacific and the Middle East. Through its extensive channels, HP sells its tablets to users across the globe. As emerging markets are growing, HP is now focusing on the Asia Pacific and the Middle East. The sales, marketing and distribution of HP tablets are under the management of the Personal Systems business segment. For the consumer market, HP usually arranges direct online sales and channel relationships with retailers or commercial resellers. For larger enterprise customers, HP usually arranges an account manager supported by a team of specialists with product and service expertise to manage the relationship.
8.0 Conclusion
In conclusion, HP's tablet line has advantages on the tablet market as it has a premium brand, ability to innovate and the vast and efficient distribution and outsourced manufacturer network. It should exploit these advantages by using the opportunities brought by the growing demands for tablets worldwide (especially in the emerging markets) and the recent split of the company in order to deal with the risks and pressure that it faces.
HP's positioning for its tablet line is clear: divided into two segments aiming for either consumers or businesses with a wide range of prices. Its competitiveness on the market is obvious—affordable price (consumer tablets) or seamless experience (business-oriented tablets). This is going toward the right direction as consumer tablet market is maturing and price is becoming a matter. Business users value more about an efficient and smooth experience than money. One weakness that HP should work on is its ability to keep innovating, the ability to develop uniqueness in the design of its products. After all, a great product markets itself.
References
Anja, B. 2009, 'The SWOT Analysis', GRIN Verlag: Munich, vol. 1, no. 1, pp. 2.
Baines P., Fill C., Page K. 2013, Essentials of Marketing,Oxford University Press, Oxford.
Gartner, 2014, Gartner Says Sales of Tablets Will Represent Less Than 10 Percent of All Devices in 2014, viewed 13 April 2015, http://www.gartner.com/newsroom/id/2875017]
HP, 2014, Annual Report, viewed 12 April 2015, http://h30261.www3.hp.com/~/media/Files/H/HP-IR/documents/events/18-03-2015/hpq-annual-report-2014.pdf
Koch, W. 2014, Hewlett-Packard splits into two companies. USA TODAY. Retrieved on April 2015, http://www.usatoday.com/story/money/business/2014/10/05/report-hewlett-packard-plans-to-break-into-two/16768635/
Lonescu, D. 2013, HP to reenter consumer tablet market with Android device, viewed 13 April 2015, http://www.techhive.com/article/2028161/hp-to-reenter-consumer-tablet-market-with-android-device.html
Reid, D.; Bojanic, C. 2009, Hospitality Marketing Management, John Wiley and Sons, New Jersey.
Statutia, 2015, Market share of PC vendors of PC shipments worldwide from 2011 to 2014, by quarter, viewed 13 April 2015, http://www.statista.com/statistics/269703/global-market-share-held-by-pc-vendors-since-the-1st-quarter-2009/
Stone, P. 2001, Make Marketing Work for You: Boost Your Profits with Proven Marketing Techniques, How To Books Ltd.: Oxford.